Description
We've come a long way since the earliest cab over engine trucks. They're no longer vehicles, but highly technical tools — and we've got the features to prove it.
ERGONOMICS
Big jobs require big room. Lucky for you, we designed our cab with you in mind. You'll find room for legs, knees, and bellies.
ONE SMALL STEP FOR MAN…
A significant number of drivers' worker compensation claims are due to falls and slips. We made your day easier with a lowered floor height – making ingress/egress safer.
WELL WITHIN REACH
We don't make cabs – we make cockpits. You'll find every control carefully designed and placed in order to provide the best functionality and ergonomics.
DESIGNED FOR THE ROUTE
No two routes are the same, so choose the configuration your need for each application: standing, sitting, two passengers, three – you name it, we'll deliver it.
VISIBILITY
CURVES ARE GOOD
We love curvy windows and you should, too! Our curved windshield minimizes A-pillar obstruction and our curved corner windows give you 360° visibility.
ONE PIECE OF ADVICE
Nobody wants a blind spot. With our single piece rear windows, you don't have to have them. You can enjoy maximum safety when in reverse, thanks to our increased visibility.
A ROOM WITH A VIEW
We get it. You don't like to talk about backing up. It's okay – just know that you can do it safer in our cab. Our lowered engine emission components give you clear sight from the rear window.
DESIGNED FOR SUBTLETY
Nothing gets in your way in our cab. We carefully integrated our controls to maintain a low profile and a clear field of vision.
DURABILITY
SHOCKINGLY STRONG.
Rough rides are a cab over thing of the past. Spend your day on the smoothest ride around with our large displacement coil spring and shock absorber cab suspension system.
NEITHER SNOW NOR RAIN . . .
Your truck has to withstand the harshest elements. Good thing each cab is built from corrosion-resistant steel, protective paint, and comes with a 3-year warranty to put your mind at ease.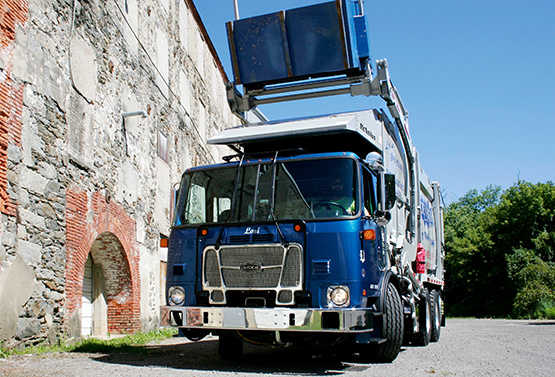 PAINT TO BE PROUD OF
Why settle for anything other than the best? We paint our cabs with the e-coat system to give you an attractive finish that lasts the lifetime of the truck.
DESIGNED FOR SAFETY
A cab is only as strong as its weakest point . . . so we eliminate the weak spots. Our cabs are fully welded to ensure maximum safety for your drivers.